the international student center is a very safe hostel and very close to central park in manhattan. is a hostel for young people and very easy to find located in Manhattan and designed for students and young people (from 18 to 35 years old) visiting New York.
is located in the upper west side of manhattan (is located in a historic and very central neighborhood a block from central park)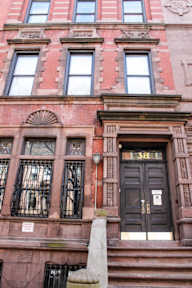 The American Dream Hostel is a family hotel that has hosted travelers for the last 15 years. lou barreto (the owner and host) wanted to create a place that was not just a simple place in the city. his passion for the hostel makes it a very relaxed and even friendly environment and has amenities like a breakfast do it yourself, hot water and a very comfortable bed.
is located by the flatiron block is near 6 tourist attractions: the empire state, flatiron, madison square park and union square, restaurants, bars and a sophisticated place in the city.
you know what? let's say that if we go to new york we would stay in this hiostal so great and so close to everything. It reminds me of the hostel where we were in Barcelona with such a kitchen. (We'll talk about Barcelona later)