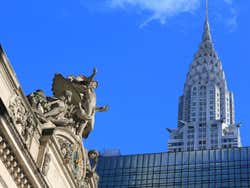 Although the empire state takes all the fame, the chrysler building is the favorite skyscraper of many New Yorkers and many visitors.
the automobile magnate walter chrysler wanted to demonstrate the greatness of his company and the industry of his country. to get it, chrysler signed the architect of brooklin william van allen, who designed the art deco building with elements reminiscent of a car.
the construction of the building ended in 1930 and with 319 meters high, it became the tallest building in the world.
The inauguration of the empire state on May 1, 1931, meant that the chrysler building would be relegated to a second position.
currently the chrysler building is the sixth tallest building in new york behind buildings such as the empire state or skyscraper as the one trade center, the tallest building in new york today.
during the construction of the chrysler building it rivaled the bank of manhattan trust building, a building on wall street, on which is the tallest building in the city.
William van Allen let the builders of the building trust each other with an ace. the 56-meter dome that was built in the skyscrapers.
when the bank of manhattan was finished, they go allen I surpass it raising the dome in less than two hours.