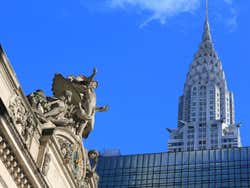 aunque el empire state se lleve toda la fama, el edificio chrysler es el rascacielos favorito de gran parte de los neoyorkinos y de muchos visitantes.
el magnate del automovil walter chrysler quiso demostrar la grandeza de su compañia y de la industria de su pais. para conseguirlo, chrysler contrato al aquitecto de brooklin william van allen, que diseño el edificio art deco con elementos que recuerdan a un auto.
la construccion del edificio finalizo en 1930 y con 319 metros de altura, se convirtio en el edificio mas alto del mundo.
la inaguracion del empire state el 1 mayo de 1931 izo que el edificio chrysler quedaria relegado a un segundo puesto.
actualmente el edificio chrysler es el sexto edificio mas alto de new york por detras de edificios como el empire state o de rascacielos como el one trade center, el edificio mas alto de new york actualmente.
durante la construccion del edificio chrysler se rivalizo en el bank of manhattan trust building, un edificio en wall street, sobre cual es el edificio mas alto de la ciudad.
william van allen dejo que los constructores del edificio se confiaran teniendo un as. la cupula de 56 metros que se construyo en los rascacielos.
cuando el bank of manhattan fue terminado, van allen lo supero subiendo la cupula en menos de dos horas.